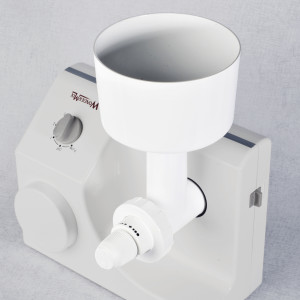 The optional WonderMix Grain & Seed Mill Attachment is the perfect option for people who want to grind seeds and grains, but who aren't in the market to buy an entirely new machine specifically for milling.
With its large 5 cup capacity, you can grind a variety of seeds and grains, including the following:
Wheat (soft or hard)
Rice
Oat groats (oats that have been de-hulled)
Spelt
Triticale
Kamut
Field corn
Sweet corn (dried)
Millet
Barley
Rye
Buckwheat
Split peas
Quinoa
Teff
Sorghum
Amaranth
Lentils
Dry beans
Soybeans
Sesame
Flax
Chestnuts (chopped)
Coffee
Various herbs and spices
The Grain & Seed Mill Attachment can also crack grains to a variety of sizes. Simply set the adjustment dial to your desired consistency (anywhere from fine flour to cracked grain). 
**Note: The Grain & Seed Mill Attachment will not work for tapioca pearls, saw palmetto berries, or popcorn.