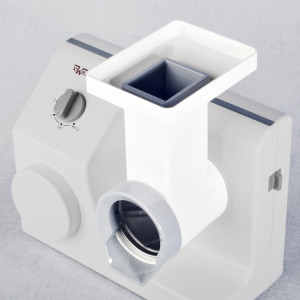 If you are looking for the perfect addition to your WonderMix Kitchen Mixer, then look no more! Our optional SLICER SHREDDER ATTACHMENT is the perfect tool for your kitchen!
This amazing attachment comes with 3 stainless steel drums that are easy to interchange and even easier to clean:
The UNIVERSAL DRUM will finely grate anything from soft cheeses to hard fruits (like apples) and hard vegetables (like carrots). It will also finely grate hard cheeses.
The COARSE DRUM juliennes fruits and vegetables for soups and salads. It easily juliennes cheeses for salads and toppings.
The SLICING DRUM is great for slicing vegetables such as cabbage and carrots to use in coleslaw. If you want to dehydrate fruits and vegetables, it will give you a very thin and even slice. It's also wonderful for slicing vegetables to use in salads and for slicing potatoes for frying.
Slicer Shredder Attachment Features:
All parts are BPA Free
1 year Warranty on Manufacturing Defects
Convenient small size for storage
Built with premium ABS plastic
Three stainless steel drums
Dishwasher safe
Made in Germany
---
Wondermix Optional 3 drum set for slicer Shredder attachment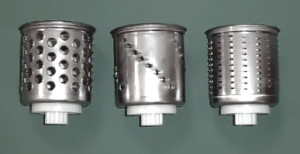 This set of stainless drums fits the Wondermix Slicer Shredder attachment , to extend its abilities. Included in this set are:
Drum #4: An extra fine disk for the finest grind for nuts, cheese, baby foods, chocolate, bread crumbs, almond pie crust, cookie and cake recipes. Excellent for people who are gluten-intolerant. This drum will also grind sprouted grain for sprout (Essene) bread. Many customers us this drum to make a nice almond flour.
Drum #5: Special drum for celery and carrots.
Drum #6: Coarse potato grating drum.